Jump to Baking · Dinner · Drinks
Baking
Paleo banana bread
Preheat oven to 350F.
Into a blender:
4 bananas
4 eggs
1/2 cup almond butter
4 tbsp coconut butter
Mix well, then add:
1/2 cup coconut flour (75 grams)(or almond flour, macadamia nut meal, etc)
1 tbsp cinnamon
1 tsp baking soda
1 tsp baking powder
1 tsp vanilla
Mix well, then (optionally) add:
Raisins or prunes, pulse to blend on a little
Pour into a baking loaf pan.
Oven: 350F for 60min
Remove from oven and flip onto a cooling rack.
Paleo crunch bar
Preheat oven to 400F
In food processor pulse until tiny chunks:
3/4 cup raw almonds
3/4 cup raw macadamia nuts
Then add into a large mixing bowl and mix with:
1/4 cup raw pumpkin seeds / pepitas
1/4 cup raw sunflower seeds
1/4 cup shredded unsweetened coconut
1/2 cup cranberries or raisins
1/2 cup coconut oil melted
1/4 cup raw organic honey
2 eggs
2 tablespoons cinnamon
Grease a large 9x9 square baking dish with coconut oil
Oven: 400F for 20-25min. Test center with toothpick to come out clean.
Let cool on counter. Then slice into bars and store in fridge.
Jump to Baking · Dinner · Drinks
Dinner
Lamb meatballs / kofta
1 egg
1lb lamb mince
1 onion minced
8 cloves garlic minced
onion salt / salt
garlic powder
cumin
2 tbsp olive oil
All mixed in a bowl and formed into 12-16 meatballs on baking tray.
Oven: 425F for 20min, until lamb is 160F.
Lamb shanks
2-4 Lamb shanks
Bone broth
Carrots
Cinnamon
Cumin
Turmeric
Onion sliced into 4 sections
3 packs garlic
Instant pot: 36min high pressure + 15min natural release
Rainbow trout filets
Preheat the oven to 425F
Line a baking sheet with parchment paper
Place fish fillets skin side down on baking sheet
Drizzle with olive oil
Sprinkle with 21 seasoning flakes + salt
Oven: 425F for 10min
Ribeye steak
Season with salt and pepper
Room temperature
Hot iron pan: 4-3-2 min for first side, 2nd side. Sit.
Air fryer: 7 min each side for medium.
Sweet potato mash
Use sweet potatoes or butternut squashes or both.
Wash and cut potatoes or squash into halves
Put 500ml water in pressure cooker OR bone broth
Use trivet
Instant pot: 10min high pressure + natural release 10min
Then:
Add 1 tbsp coconut butter per medium potato while mashing with fork and spoon
Season with salt and pepper and garlic powder
Jump to Baking · Dinner · Drinks
Drinks
Frozen berry margarita
After reading Robb Wolf's great paleo primer "The Paleo Solution", I wanted to recreate his paleo cocktail of choice the NorCal Margarita but didn't have any ice. My roommate had frozen berries in the fridge, so I used them and the NorCal Frozen Berry Margarita was born!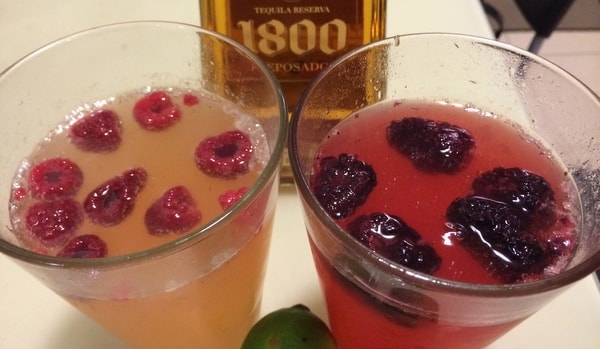 1-2 shots of 100% agave tequila
1 entire lime's juice with pulp
1 can of club soda water
4-10 frozen berries (instead of ice in a NorCal Margarita)
Choose your own berries. I prefer frozen blackberries for a tarter drink, but its great to mix it up with raspberries for something sweeter or strawberries or blueberries.